Belleville and Ménilmontant
Your guide to Paris' cool northeast quarters (11th and 20th)
---
When the city's northern boundaries were expanded in 1860, Ménilmontant and Belleville (once villages that provided Paris with wine and weekend escapes) were absorbed into central Paris, first housing migrants from rural France, then populations from former colonies in North Africa and Asia. Nowadays it's still cheap and cosmopolitan, with artists' colonies in its upper stretches and a Chinese quarter around the Boulevard de Belleville. Up on the slopes of Les Hauts de Belleville, there are great views over the city from Rue Piat and Rue des Envierges, which lead to the modern but charming Parc de Belleville. Another parkland to explore nearby is the Père Lachaise cemetery, where the likes of Jim Morrison, Oscar Wilde and 'little sparrow' Edith Piaf party in the afterlife.
'Mesnil-Montant' used to be just a few houses on a hill with vines and fruit trees; then came the bistros, bordellos and workers' houses. These days it's a thriving centre of alternative Paris, as artists and young professionals have moved in. Although several side streets still have male-only North African cafés, Rue Boyer is home to two of Paris' most buzzing venues: the Bellevilloise multidisciplinary arts centre and La Maroquinerie concert hall. You'll also find a profusion of hip bars along Rue de Ménilmontant, which descends into Oberkampf, home to yet more nightlife entertainment. Heading east of here, beyond Père Lachaise, follow the 'it' crowds to Rue de Bagnolet for drinks at Philippe Starck-designed Mama Shelter hotel and music at Flêche d'Or, a concert hall set in a former train station.
Restaurants and cafés in Belleville and Ménilmontant
Rated as: 4/5
Price band: 2/4
Critics choice
The Bellevilloise is the latest incarnation of a building that once housed the capital's very first workers' co-operative. Now it competently multitasks as a bar, restaurant, club and exhibition space, hosting regular film and music festivals on the top level (where there's a fake lawn with deckchairs and a massage area). Enjoy brunch in the Halle aux Oliviers or decent views of the quartier from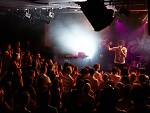 Rated as: 5/5
Price band: 2/4
Critics choice
La Maroquinerie's former life as a leather factory is little in evidence these days. It's now a bright café and bar in competition with La Bellevilloise, with a coveted downstairs concert venue that hosts the odd literary debate and a wealth of cool music acts. It's home to the Inrocks Indie Club nights, but there are still traces of its world music roots. The food is excellent - you can eat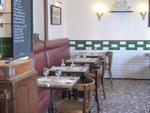 Situated near Montmarte in Paris's 20th Arrondissement, Le Rez-de-Chausée is a classic neighborhood bistro. The space is warm and bright, with touch of sophistication lent by original plaster moldings and ceiling frescoes revealed by a total renovation a few years ago. The menu at Le Rez-de-Chausée features traditional cuisine of the Marcillac Valley and uses many ingredients from producers
More restaurants and cafés...
---
Attractions in Belleville and Ménilmontant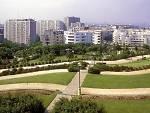 Up the slopes of the Hauts de Belleville, there are views over the city from rue Piat and rue des Envierge, but as far as panoramas go, you'll be hard pushed to find a better skyscape than the one rolling below the Parc de Belleville. This modern but charming common, was created in 1988 to bring a stretch of greenery to the park-deprived 20th, and from its slopes you can see as far as the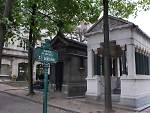 Père-Lachaise is the celebrity cemetery - it has almost anyone French, talented and dead that you care to mention. Not even French, for that matter. Creed and nationality have never prevented entry: you just had to have lived or died in Paris or have an allotted space in a family tomb.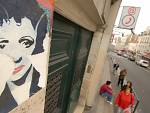 Set in an apartment where Piaf lived at the age of 18, when she sang on the streets of Ménilmontant, this tiny museum consists of two red-painted rooms crammed with letters, pictures, framed discs and objects belonging to the singer.Curator Bernard Marchois doesn't speak English. It helps, therefore, to have seen the Marion Cotillard film before you go, to allow you to piece together the
---
---