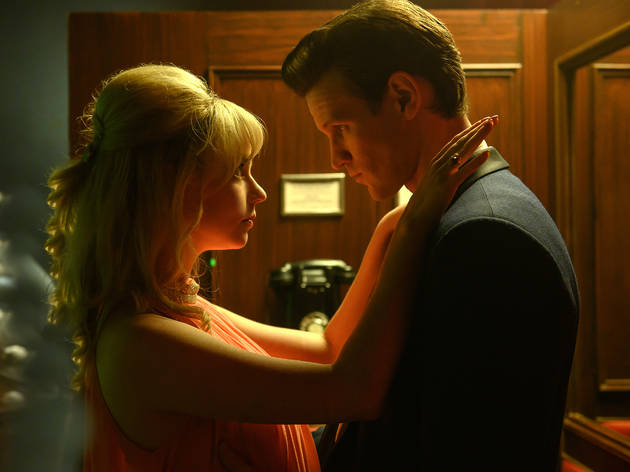 2021 movie preview: the best films coming out this year
What to stick on your must-see list for the next 12 months
If you needed someone to direct the movie version of 2020, you'd probably go for David Cronenberg. We're optimistic that 2021 will have more of an upbeat, Ron Howard-ish hue to it when it comes to cinemas and the movies that will hopefully fill them.
Howard doesn't have a film out next year, but there are exciting new offerings from Steven Spielberg, Edgar Wright and (joy!) two from Chloé Zhao and Ridley Scott. Who knows? We may even see a James Bond movie.
There's a lot to look forward to – including plenty of buzzy Netflix movies that'll be released on the big screen first – but our preview focuses on the movies with confirmed release dates. Of course, there's a ton of exciting, so-far-undated movies postponed from quarantine-hit 2020 to keep an eye out for too. Get ready to go big again.

(Release dates are for the UK)
Movies to watch in 2021
Photograph: Larry Horricks/Netflix © 2021
The story of Sutton Hoo – when an early medieval graveyard was discovered beneath an English field in 1939 – is brought back to life in a Netflix period drama full to bursting with dependable British thesps and gauzy summer skies. Ralph Fiennes plays an amateur archaeologist hired by Carey Mulligan's rich widow to take his shovel to a few burial mounds on her estate. Lily James and Johnny Flynn lend support in a story of morale-boosting discoveries playing out under the shadow of war.
We're most excited about… Cinema's answer to a class trip to the British Museum.
Out Jan 15 (on Netflix Jan 29).
Photograph: Universal Pictures
'Dust is bust' is an old Hollywood adage thrown at anyone trying to make a western. 'Take Hanks to the bank' is not an old Hollywood adage – we just made it up – but it's how Paul Greengrass's western will find its audience: on the back of Tom Hanks's star power and some traditional old West thrills. Hanks plays a US Civil War veteran escorting a ten-year-old girl (System Crasher's Helena Zengel) back to her family across a perilous Texan landscape.
We're most excited about… Sheriff Woody heading to the old West at last.

Out Jan 29 (on Netflix Feb 10).
Photograph: Fox Searchlight Pictures
Just the trailer for this small-town shocker left us shaken and disturbed. Directed by Scott Cooper (Crazy Heart) and co-produced by Guillermo del Toro, Antlers weaves myth and fairy tale into the modern-day story of a boy with a dreadful, deadly secret.
We're most excited about… Finding out what the hell he's got locked in the attic.
Out Feb 19.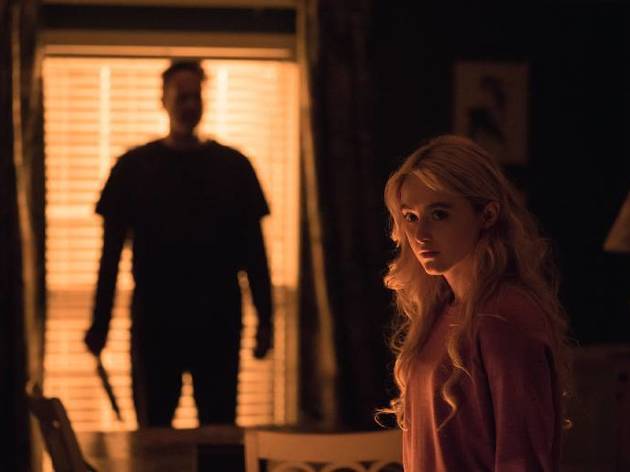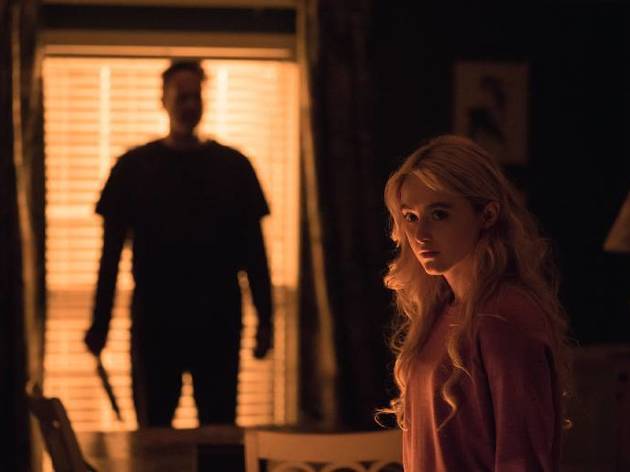 Photograph: Universal
Why didn't someone think of splicing Freaky Friday and Friday the 13th before? On the evidence of this much-delayed, '80s-feeling horror-comedy, they probably should have. Vince Vaughn and Kathryn Newton (aka the teenage daughter in Big Little Lies) do the role-reversal thing when a murderous psychopath and a gawky, diffident high-schooler are body-swapped by some kind of supernatural doo-da (not important). Cue much silliness and a host of imaginative offings.
We're most excited about… Vince Vaughn's dainty running.

Out Feb 19.

Photograph: Courtesy of SEARCHLIGHT PICTURES
Chinese filmmaker Chloé Zhao has two films out this year and they couldn't be more different: one has a mighty Marvel budget and a bucketload of CGI; the other has a sixty-something-year-old woman roaming the Midwest. We're excited about both – especially the first – but Nomadland's indigent hero is played by Frances McDormand and the American landscapes look screensaver-worthy.

We're most excited about… Frances McDormand reminding us why she's already won two Oscars.

Out Feb 19.

Photograph: Dean Rogers
6. Everybody's Talking About Jamie
The London stage sensation hits the big screen in a crowded year for musicals that will also include In the Heights (out in July) and Steven Spielberg's remake of West Side Story (December). Making this effort stand out: the exuberance of its pro-drag stance, and the addition of impish spirit animal Richard E Grant to the cast.
We're most excited about… Richard E Grant strutting his stuff as an ageing drag queen.
Out Feb 26.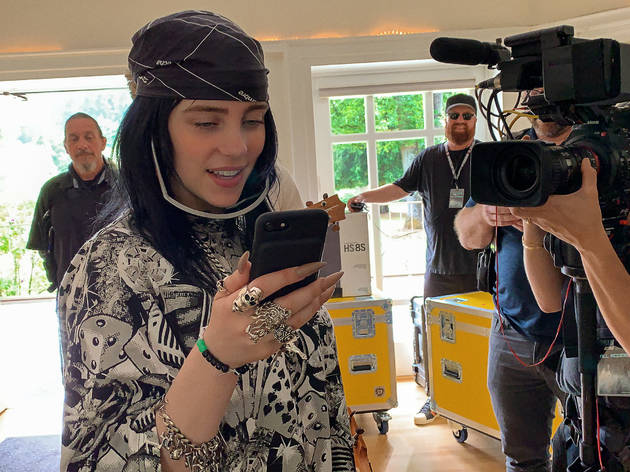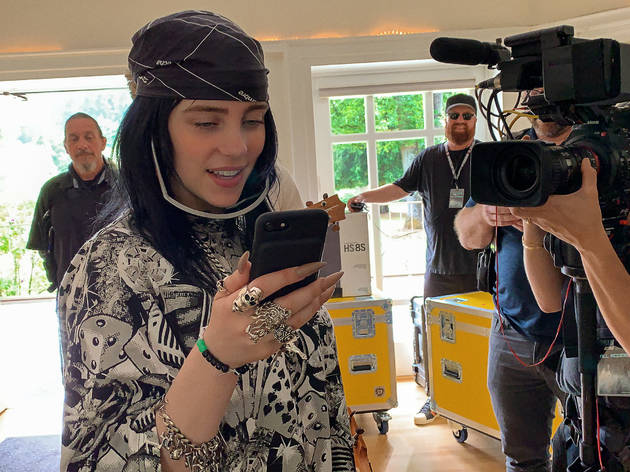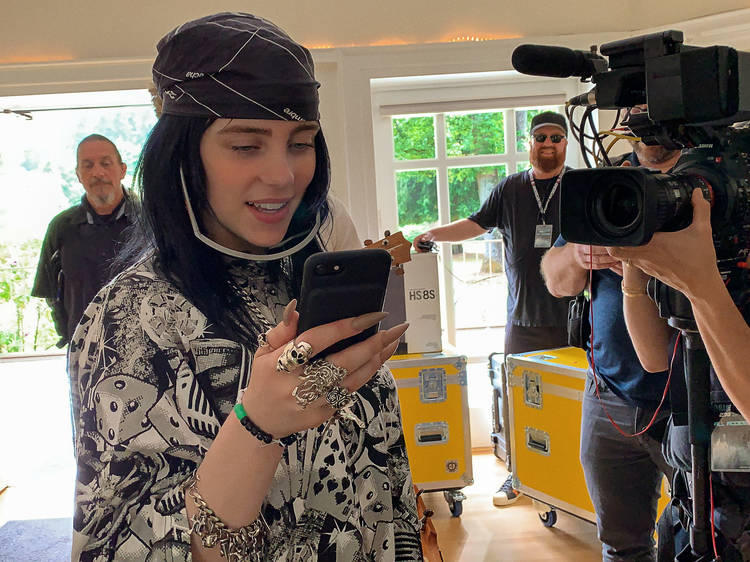 Photograph: Apple TV+
7. Billie Eilish: The World's a Little Blurry
Not many people get the fly-on-the-wall documentary treatment aged 17, but then with five Grammys, two MTV Video Music Awards, 40 million single sales and a James Bond theme behind her, Billie Eilish is not many people. The September Issue director RJ Cutler follows her on tour, in the studio with her brother and writer-producer, Finneas O'Connell, and at home, in an intimate portrait of a musical prodigy that will have a bajillion fans scrambling for their remotes in February.
We're most excited about… The Spotify-playlist's worth of Eilish bangers.

Out Feb 26 (on Apple TV+).
Photograph: Briarcliff Entertainment
In the kind of breathtakingly brazen act that would seem far-fetched in a thriller, Washington Post journalist Jamal Khashoggi was brutally murdered by the Saudi state in Istanbul in 2018. Two years on and this doc from filmmaker Bryan Fogel (Icarus) looks for the smoking gun and tries to find out how high the conspiracy goes (clue: very, very high). The result looks like a must-see for anyone interested in geopolitics at its most sinister.
We're most excited about… This year's answer to Taxi to the Dark Side.
Out Mar 5.
Photograph: TIFF
Deafness is an isolating, scary island that cinema doesn't visit too often, so Riz Ahmed's new music-themed drama is worth paying attention to – not least because Riz Ahmed is in it and he's consistently great. The Londoner plays a rock drummer whose hearing difficulties give way to something more permanent, crashing his dreams and overloading his relationship with his partner and bandmate (Olivia Cooke).
We're most excited about… A tough but tender comeback story.
Out Mar, date TBC.
Photograph: Disney
10. Raya and the Last Dragon
Sounds like blasphemy to even suggest it but has Disney Animation overtaken its studio cousins Pixar for quality and originality in recent times? Frozen, Big Hero 6, Zootopia, Moana and Ralph Breaks the Internet, and to a lesser extent, Frozen 2 is a hot streak (cold in Elsa's case, obvs) in anyone language. Next up is another original story: an adventure set in the fictional but southeast Asian-inspired kingdom of Kumandra that boasts Awkwafina and Star Wars' Kelly Marie Tran among its voice cast.

We're most excited about… Awkwafina voicing the world's sassiest dragon.

Out on Disney+ and US theaters Mar 5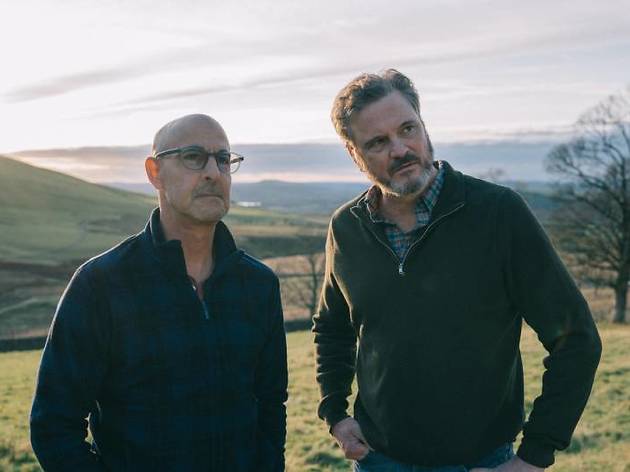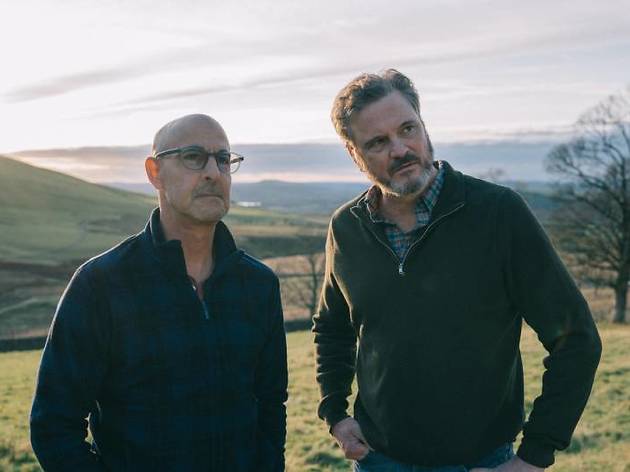 Photograph: StudioCanal
A blocked writer (Stanley Tucci) and a novelist (Colin Firth) take a campervan to England's Lake District. The former is suffering from early onset dementia; the latter is submerging his own worry and heartache beneath a blizzard of well-meaning gestures, plans and concern for his partner. Writer-director Harry Mcqueen's love story promises two actors at the top of their game exploring life's deepest joys and sorrows against glorious rural backdrops.
We're most excited about… Stanley Tucci and Colin Firth sharing uninterrupted screentime.
Out Mar 5.
Photograph: Shutterstock
12. The Many Saints of Newark
While we're all still arguing about whether or not The Sopranos is the greatest TV show of all time, the conversation has shifted to the big screen with this Tony Soprano origin story. For added pathos – or uncanniness, depending on how you look at it – James Gandolfini's son, Michael (pictured), is playing the younger version of his dad's mobster-in-the-making. Will it reach the heights of the show? Its creator, David Chase, is co-writer so hopes are high.

We're most excited about… Michael Gandolfini stepping into his dad's suits as New Jersey's future garbage mobster.

Out Mar 12.
Photograph: Takashi Seida
13. The United States Vs Billie Holiday
If you caught the recent documentary Billie, you'll have a sense of quite how much Billie Holiday crammed into her tragically truncated life. She was a one-woman singing, substance-abusing, Civil-Rights-movement-galvanising legend. Lee Daniels's (Precious) new biopic zones in on the latter: her protest song Strange Fruit and the FBI's efforts to shut it down.

We're most excited about… Hearing American R&B star Andra Day doing the classic Holiday songbook in the lead role.

Out Mar 12.
Photograph: Bartosz Swiniarski
How do you figure out where to go when you have no clue where you've come from? That's the predicament faced by the amnesiac protagonist in debut filmmaker Christos Nikou's vision of a man (Aris Servetalis) cut adrift in an alternate modern-day Athens. Nikou served as assistant director on Yorgos Lanthimos's Dogtooth and the influence of his fellow Greek looks like it's rubbed off. One for the arthouse heads to circle and underline twice in their MoMA diaries.

We're most excited about… Hailing Greek cinema's new Yorgos Lanthimos.
Out Mar 19.
Photograph: Melissa Lukenbaugh
Festival 'buzz' in 2020 was 80 percent more hushed than normal, but the clamour around this indie drama was still seriously audible. Director Lee Isaac Chung grew up in Arkansas and parlays his own formative years into a story that puts a whole new lens on the American dream. It follows an Korean-American family from the big city to a new life in the rural Ozarks to face new challenges – with some help from 2021's sweariest on-screen grandma.
We're most excited about… The Walking Dead's Steven Yeun showing his formidable range again.
Out Mar 19.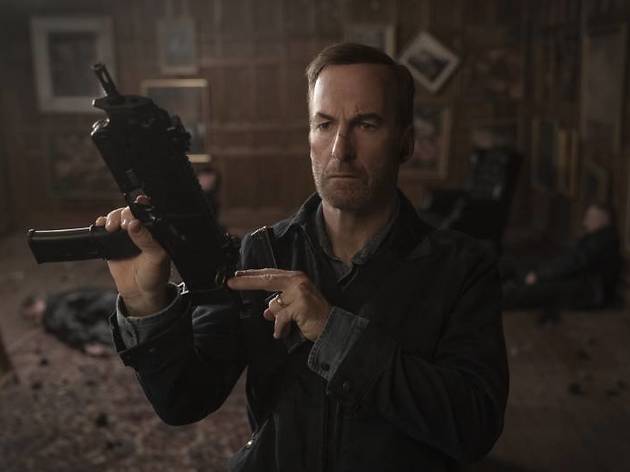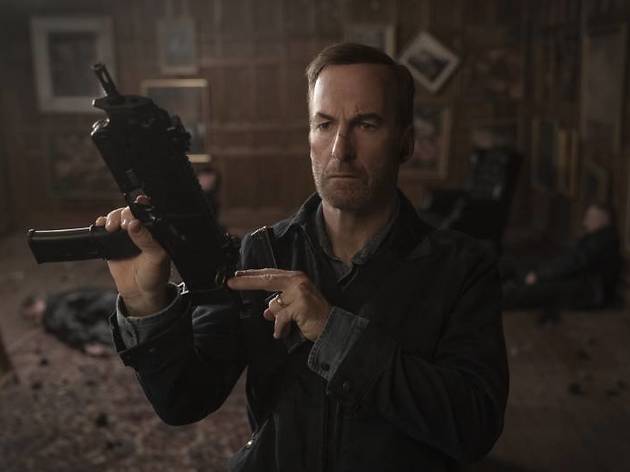 Photograph: Universal
There's a long lineage of middle-aged blokes becoming violent that runs from Straw Dogs and Death Wish to Falling Down and Taken. Bob Odenkirk gets his turn to go full Liam Neeson in an action-thriller that sees him transformed from nebbish family man Hutch Mansell to gun-toting instrument of vengeance when his home is invaded by some soon-to-be-dead perps. Hardcore Henry's Ilya Naishuller directs: expect geysers of blood rather than searing insights into masculinity run amok.
We're most excited about… Saul Goodman turning into Saul Verybadman.
Out Apr 2.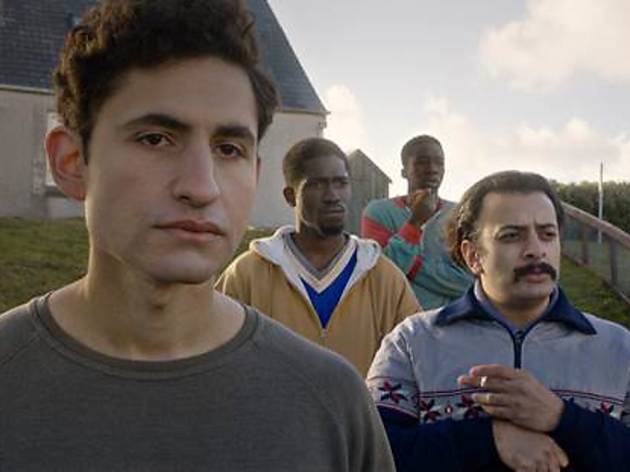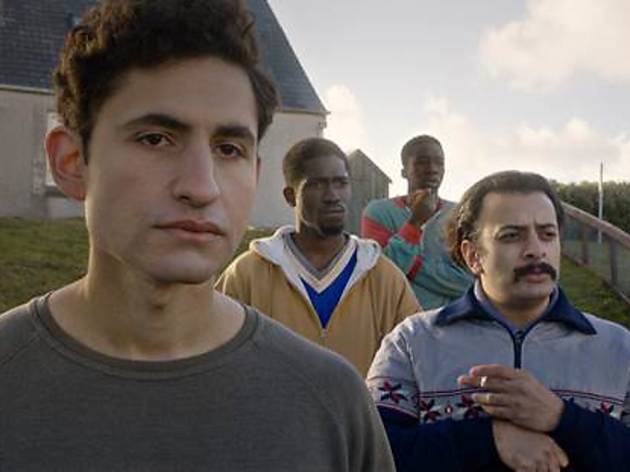 Photograph: Courtesy of MUBI
Syrian refugee Omar (Amir El-Masry) finds himself on a remote Hebridean island in a tale of dislocation and readjustment that received rave reviews at the Toronto film fest. It's the handiwork of Scottish director Ben Sharrock and it promises a blend of Loachian social realism and dry fish-out-water comedy, as Omar and his fellow asylum seekers face down xenophobia, get their heads around local traditions and puzzle over Scottish condiments.

We're most excited about… A very Scottish take on a global situation.

Out Apr 9 (on Mubi).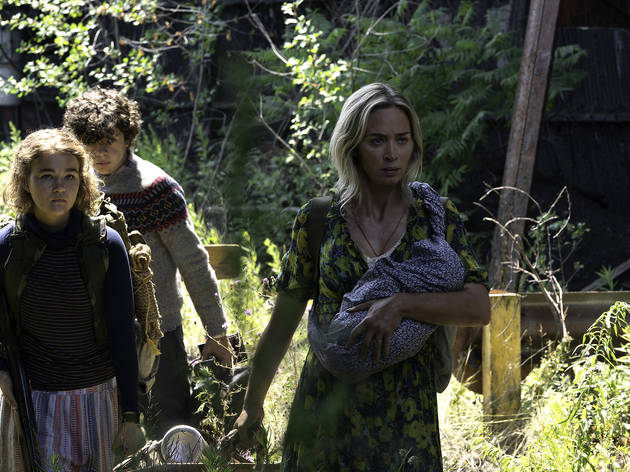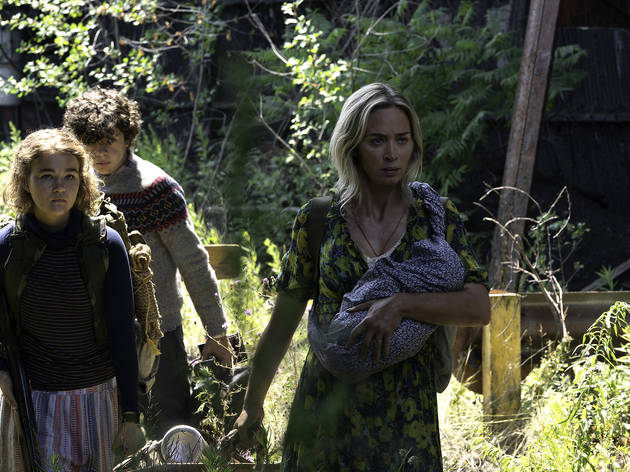 Photograph: Jonny Cournoyer
18. A Quiet Place: Part II 
A monster movie directed by the cheeky one from The American Office didn't exactly scream quality, but thanks to a neat, original premise – blind beasties with killer hearing – 2018's A Quiet Place worked surprisingly well. A sequel was inevitable, sending the beleaguered Abbott family into the wilds of apocalyptic America. And with the entire original cast and crew returning – except for the ones that got eaten – this could be pretty good.
We're most excited about… Emily Blunt, back in monster-slaying action.

Out Apr 23.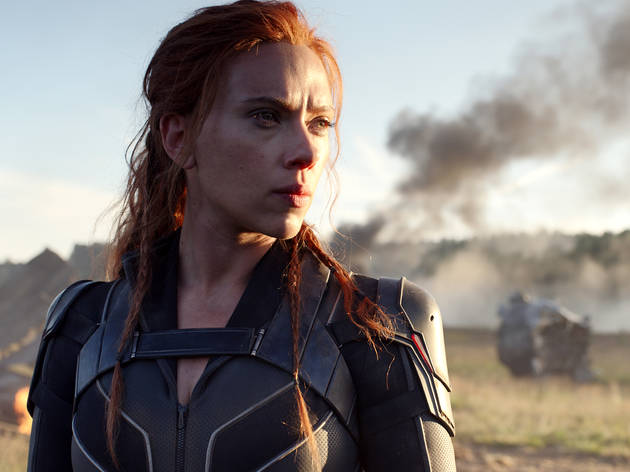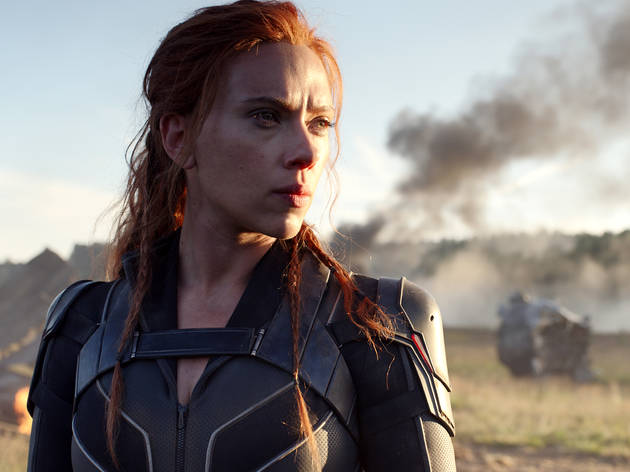 Photograph: Film Frame ©Marvel Studios 2020
Finally, a Marvel movie with a female lead (and what's more, a female director!). She may have plummeted to her death in Avengers: Endgame, but Scarlett Johansson's ass-kicking assassin has one last story to tell. Set in the period following Captain America: Civil War, the film takes Black Widow, aka Natasha Romanoff, back to Russia to confront the ghosts of her past.
We're most excited about… Florence Pugh killing it as Black Widow's sister-in-crime.

Out May 7.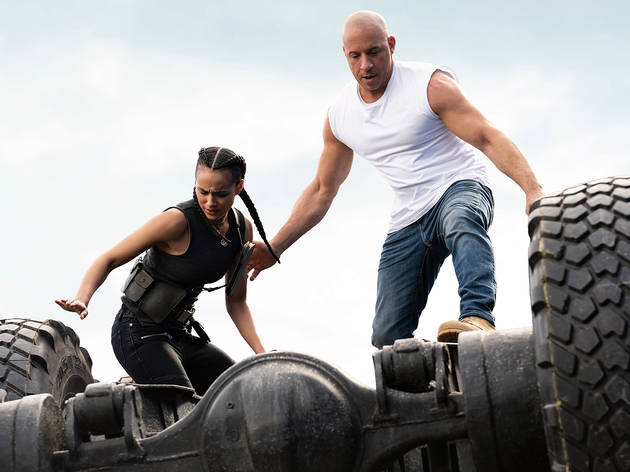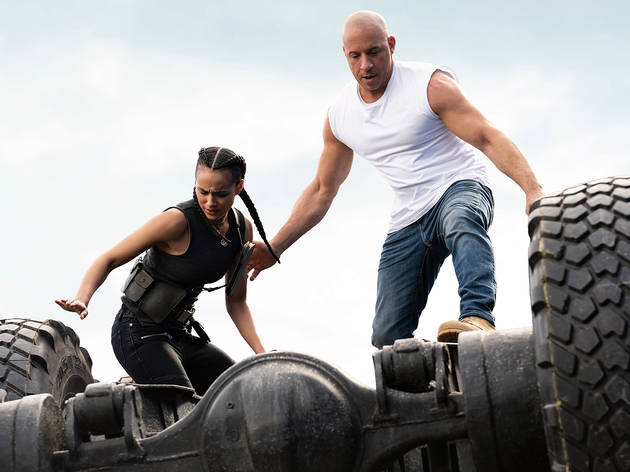 Photograph: Giles Keyte/Universal Pictures
Ditching Dwayne Johnson and Jason Statham – partly because they got their own movie, Hobbs & Shaw, and partly because, if you believe the rumours, not everyone gets along too well with Vin Diesel – the petrolhead saga reunites the original team of Highway Code-disdaining heistmongers for more screeching tyres, giant explosions and serious chats about the meaning of family. John Cena joins the beefcake party this time out.
We're most excited about… Director Justin Lin was responsible for series peak Fast Five, so the action sequences should be top-notch.
Out May 28.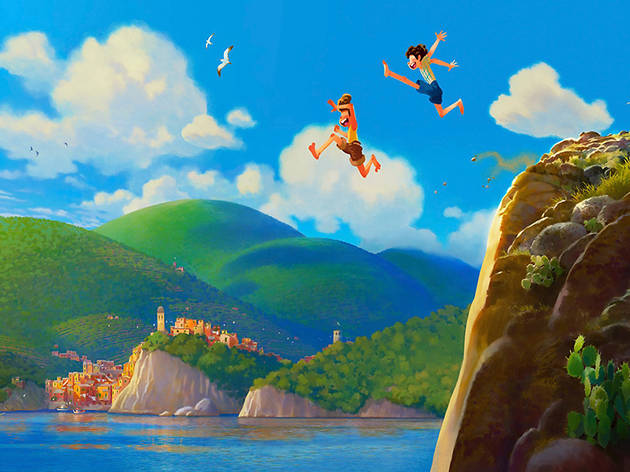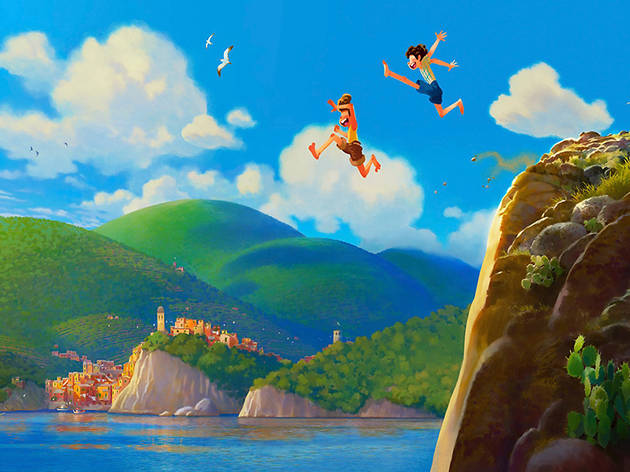 Photograph: Pixar
Storyboard artist-turned-director Enrico Casarosa established his Pixar bona fides with the Oscar-nominated short La Luna. His feature debut takes him back to his childhood home of the Italian riviera for a coming-of-age story involving a boy and his new best friend. The new pal? A sea monster from another realm. Sounds like Call Me By Your Name meets Pacific Rim. We're sold.
We're most excited about… Pixar heading to Europe for the first time since Brave.
Out Jun 18.
Photograph: Paramount Pictures
This belated Top Gun sequel hasn't exactly careered to the screen at Mach 3 but it's hardly matters: in the right light, Tom Cruise still looks 27 and that shit-eating grin is ready to come out of cold storage for some fast-talking schtick in between improbable aerial stunts, palm-stinging, and, yes, beach volleyball. We're all going to want to be naval aviators again, aren't we?

We're most excited about… Seeing some female flyers take to the skies.

Out Jul 9.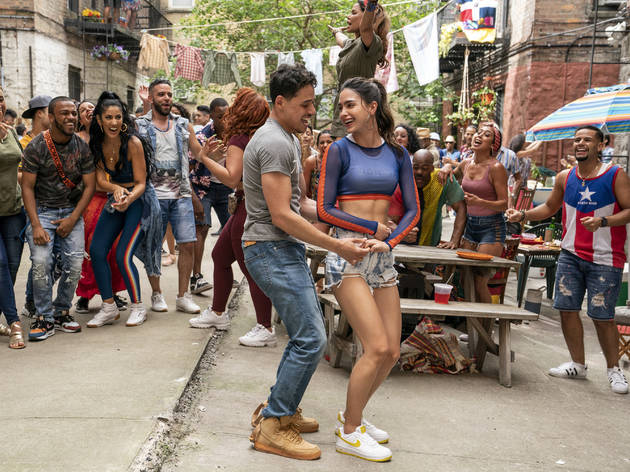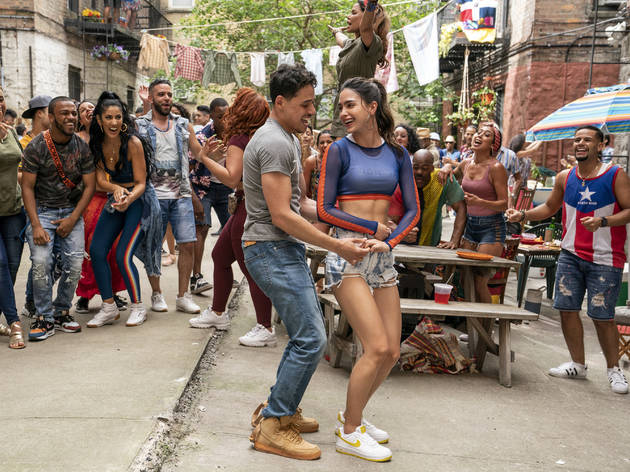 Photograph: Warner Bros.
Before you've had your morning shower, Lin-Manuel Miranda has probably written five new catchy songs and come up with a killer idea for a musical. At least, that's what you'd think looking at this relentlessly creative EGOT-winner's CV. His name is on three movies this year, including this celebration of Latinx culture in New York's Washington Heights that adapts his own stage musical. Crazy Rich Asians' John M Chu directs and Quiara Alegría Hudes, who wrote the companion novel to the Broadway musical, penned the screenplay.
We're most excited about… Big dance numbers to a rap-meets-salsa beat.

Out Jul 30.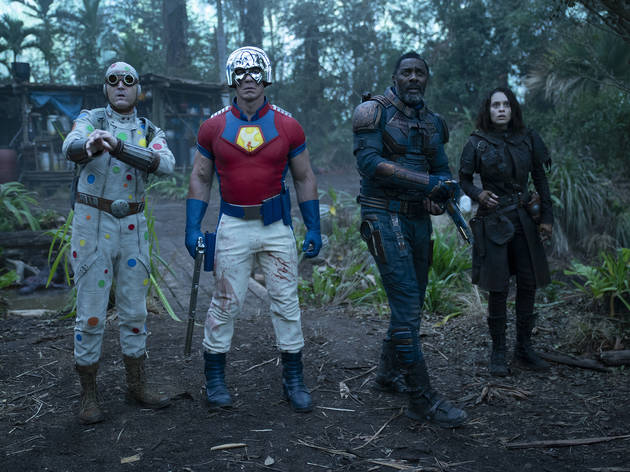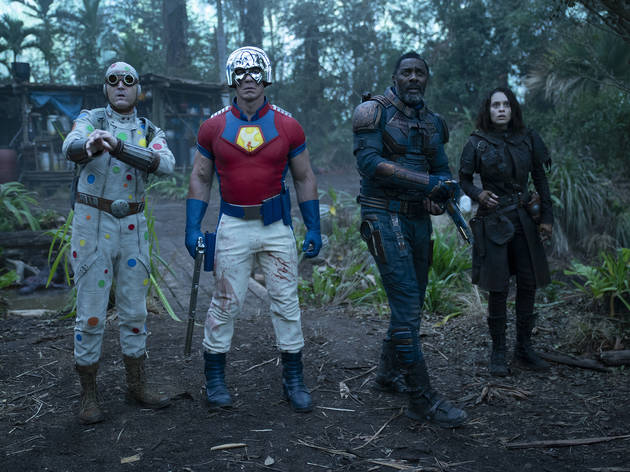 Photograph: Jessica Miglio
A box-office hit, the first Suicide Squad was widely accepted to be Not Very Good. But as the survivors regroup for a Dirty Dozen-style sequel, hopes are high that it will clear that admittedly low critical bar with something to spare. It'll be a redemption arc for writer-director James Gunn. He was exiled from the Guardians of the Galaxy franchise after some old tweets were dredged up, but he should be in his comfort zone in a fast-talking, head-smooshing actioner that boasts Margot Robbie, Idris Elba and Viola Davis.

We're most excited about… Peter Capaldi playing a supervillain. No, not Malcolm Tucker.

Out Aug 6.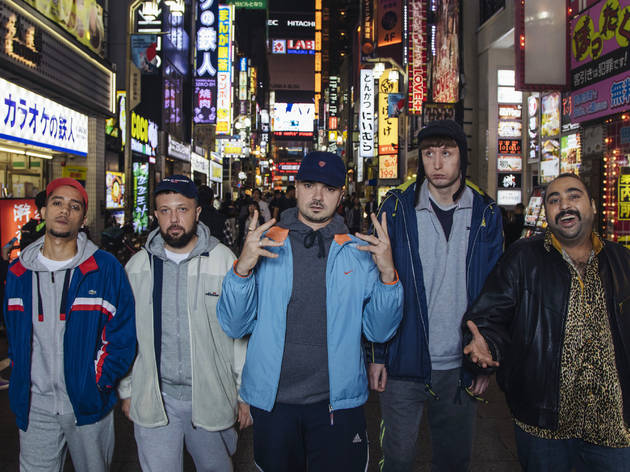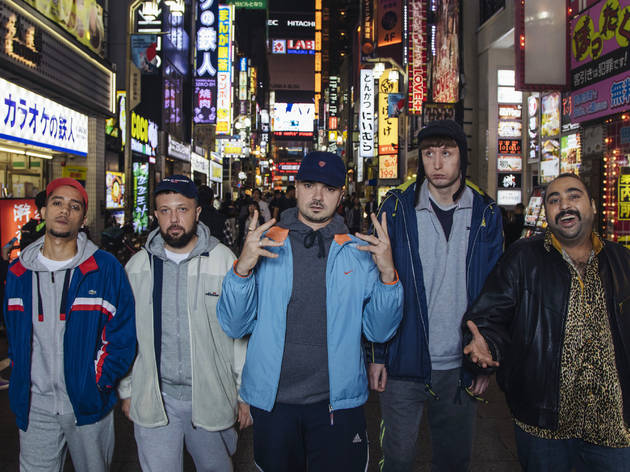 Photograph: Universal Pictures
25. People Just Do Nothing: Big in Japan
Spoof pirate radio station Kurupt FM (and one-time Time Out guest editors) hit the road – and the big screen – in a Brit TV sitcom spinoff that takes the west London garage and grime posse to Toyko for accidental stardom, culture-clash mishaps and attempts to find king-size Rizlas. If you haven't come across them yet, prepare to let MC Grindah, DJ Beats, Steves, Decoy and impresario Chabuddy G into your life in what could be Brentford's answer to This is Spinal Tap.
We're most excited about… Watching the Kurupt crew going global.
Out Aug 13.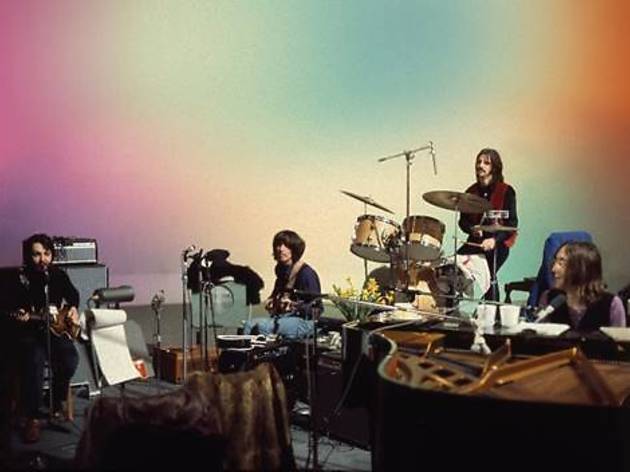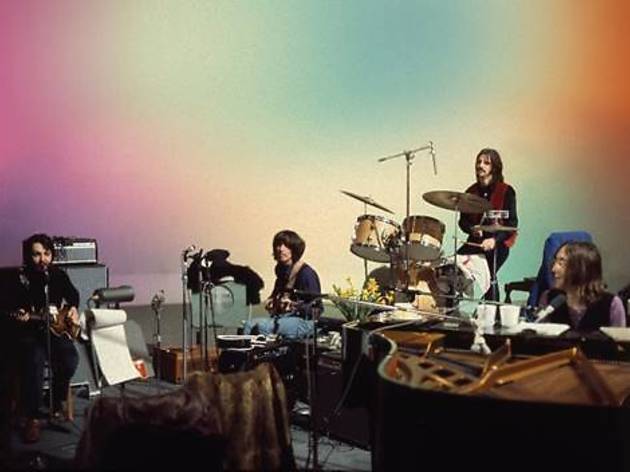 Photograph: Disney
26. The Beatles: Get Back
Peter Jackson returns to documentaries with this account of how mop-topped pop hobbits The Beatles put together 1970's Let It Be. Jackson dips back into footage from Michael Lindsay-Hogg's doc Let It Be and recuts it with unseen studio footage of the band putting the record together. The Kiwi director is promising a corrective to that more downbeat depiction of the band at odds with itself, with a more celebratory spin on the period that's earned the buy-in of the surviving Beatles.
We're most excited about… Watching the whole of The Beatles' impromptu gig on the roof of London's Savile Row.
Out Aug 27.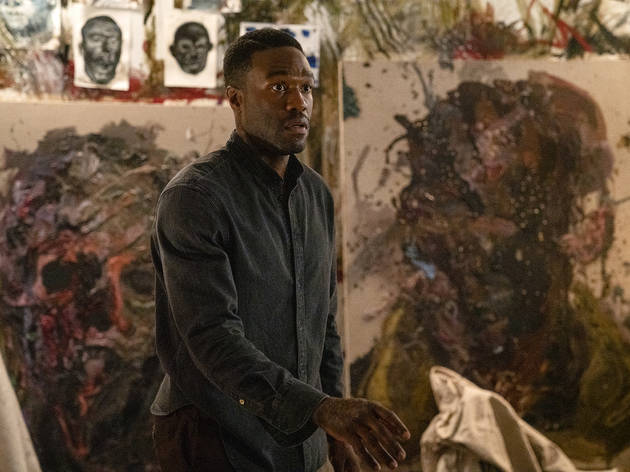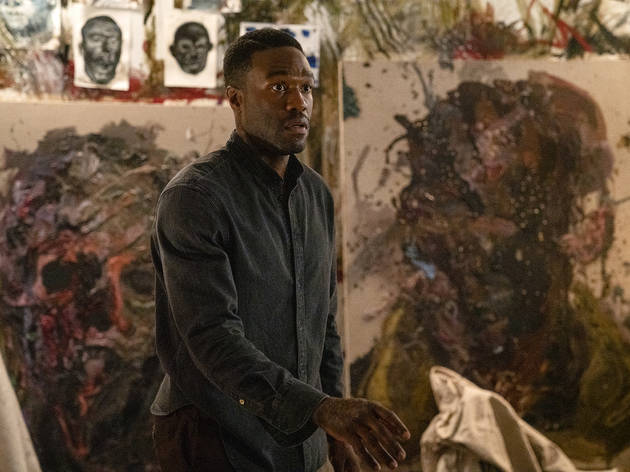 Photograph: Parrish Lewis/Universal Pictures and MGM Pictures
This might look like another low-rent horror remake – this time of Bernard Rose's social-realist 1992 chiller Candyman – but it's actually a sequel. What's more, it's been co-written and produced by Get Out, mastermind Jordan Peele, and directed by Top Boy veteran Nia DaCosta. The results could potentially be quite special.
We're most excited about… Seeing voodoo bogeyman Tony Todd back in action.

Out Aug 27.

Photograph: Chia Bella James
Overseen by a filmmaker with real pedigree in the field of thinky science-fiction, Arrival's Denis Villeneuve, this new Dune is a very early (or very late) Christmas present for sci-fi geeks, Frank Herbert fans and anyone with a passing interest in giant sandworms. The cast boasts Timothée Chalamet, Rebecca Ferguson, Oscar Isaac and Zendaya. Prepare to spice up your life.
We're most excited about… Frank Herbert's allegorical subtext coming alive on screen. And the massive worms.

Out Oct 1.
Photograph: Quantrell D. Colbert
Oscar winner Jennifer Hudson plays soul legend Aretha Franklin in a biopic which also stars Forest Whitaker and Mary J Blige (playing Dinah Washington, not Mary J Blige, sadly). Franklin consulted on the film before her death, so expect a more-than-credible watch and belting tunes.

We're most excited about… Hudson unleashing her formidable pipes and Dreamgirls charisma.
Out Oct 8.
Photograph: Universal
He's rejoined by just about the entire cast of Spectre, including Christoph Waltz's Blofeld and Lea Seydoux's slinky psychiatrist Swann, for what promises to be a globe-spanning blowout in the best Bond tradition. True Detective mastermind Cary Fukunaga takes the reins. The release date has moved around more than a Spectre HQ complex but anticipation levels remain feverish.
We're most excited about… The quips! The cars! The explosions! Finally seeing it!

Out Oct 8.

Photograph: Tinseltown, Shutterstock
'Octagenarian makes two movies in a year' feels almost like a newspaper headline. But these days we take Ridley Scott's ridiculous creativity for granted. Alongside a Gucci movie with Lady Gaga, he has this fourteenth-century revenge movie on the slate for late 2021. Based on a book subtitled A True Story of Trial by Combat in Medieval France, it follows two friends (Matt Damon and Adam Driver) ordered to fight a duel. Ben Affleck and Jodie Comer co-star. It should be familiar terrain for the man who made The Duellists 44 years ago.
We're most excited about… The screenplay is co-written by Nicole Holofcener and Good Will Hunting Oscar winners Ben Affleck and Matt Damon. How do you like those pommes?
Out Oct 15.
Photograph: Parisa Taghizadeh
Edgar Wright's London-set psychological horror stars Thomasin McKenzie (Jojo Rabbit) as a modern-day fashion student who experiences the swinging '60s. Anya Taylor-Joy and Matt Smith co-star alongside the late, great Diana Rigg. The genre touchpoints include classics like Don't Look Now and Polanski psychothrillers. Expect the unexpected, in other words.
We're most excited about… Discovering the dark side of London's seediest corner.
Out Oct 22.
Photograph: Denis Makarenko, Shutterstock
Remember when Tom Hanks and Rita Wilson caught you-know-what out in Australia and we were all scared we were about to lose them? This is what Hanks was doing at the time – starring in Baz Luhrmann's Elvis Presley biopic as Colonel Tom Parker, manager to the King during his years of fame and infamy alike. Austin Butler (Once Upon a Time... in Hollywood) plays Elvis, while Olivia DeJonge is Priscilla Presley. If the movie is half as nailbiting as its making-of story – or as flamboyant as Baz's usual efforts – it'll be one to make a date with.

We're most excited about… Watching Butler follow the likes of Kurt Russell, Michael Shannon and, yes, Frank Stallone in playing Presley.

Out Nov 5.
Photograph: Andrea Raffin, Shutterstock
Already nearly as controversial and attention-grabbing as the man himself, this drama about Richard Williams has been the subject of a lawsuit and plenty of friction. In a weird way, that seems almost a good omen for a film that aims to capture the inner fire that drives the dad of Serena (Demi Singleton) and Venus (Saniyya Sidney) to push his daughters to new heights. A bulked-up Will Smith plays the man himself.

We're most excited about… Seeing those fiery courtside encounters up close.
Out Nov 19.
Photograph: Steven Vaughan
35. Mission: Impossible 7
It's hard to say what Tom Cruise will be hanging from next in this enduring box-office juggernaut – possibly an actual juggernaut – but it'll be worth seeing on the biggest screen available. Cruise and director Christoper McQuarrie's commitment to nutso in-camera stunts, zippy plotting, and a slick melding of spy thriller beats with blockbuster action make this so-far untitled septquel a must-see.

We're most excited about… Tom Cruise finding something even bigger and more terrifying to throw himself off.

Out Nov 19.
Photograph: Ramona Rosales, © Twentieth Century Fox Film Corporation
Wanna live in America? Steven Spielberg's remake of the 1961 musical offers the next best thing. This one introduces a new generation of Sharks and Jets – including 17-year-old Rachel Zegler who beat 30,000 hopefuls to the role of Maria – as well as a welcome return from Rita Moreno, who won an Oscar for the original.

We're most excited about… Steven Spielberg's first ever musical, excluding the singalong in Jaws.

Out Dec 10.
Photograph: Pathé
As in 'of Wellington', subject of a Goya portrait stolen from London's National Gallery back in 1961. But was a gang of sophisticated art thieves responsible? A British Danny Ocean? Improbably, it was a retired bus driver called Kempton Bunton, protesting against the government's shoddy care of senior citizens. Jim Broadent plays Bunton and Helen Mirren the long-suffering Mrs B in a film that looks tailor-made for director Roger Michell's deft brand of cinematic comfort food.
We're most excited about… Jim Broadbent going full Thomas Crown in a heist scene that will hopefully feature suction cups.
Out TBC.
Photograph: Merie Weismiller Wallace
38. Promising Young Woman
The success of Killing Eve wasn't just a boon for co-creator Phoebe Waller-Bridge. Now one of the show's head writers, Emerald Fennell, makes her feature debut with the startling story of a young woman leading a double life. Firmly rooted in post-#MeToo concerns, the film was a smash at Sundance last year.
We're most excited about… Seeing Carey Mulligan cut loose.
Out TBC.
Photograph: Warner Bros.
39. Judas and the Black Messiah
Director Shaka King (Newlyweeds) teams up with producer Ryan Coogler for a uncompromising interrogation of race, activism and loyalty in '60s America. The Black Messiah of the title is Black Panthers leader Fred Hampton (Daniel Kaluuya) and Judas is William O'Neal (LaKeith Stanfield), the informant who handed him over to the FBI. But don't expect a clear-cut story of deceit and betrayal – King is promising something much more nuanced and complex in this real-life account of the two men's relationship.
We're most excited about… Watching Daniel Kaluuya in a whole other kind of Black Panther movie.

Out TBC.

Photograph: Andrea Raffin, Shutterstock
40. The Woman in the Window
It's this year's Gone Girl on the Train (with a touch of Rear Window), as the bestselling psychological thriller from AJ Finn gets a high-profile adaptation courtesy of Atonement director Joe Wright. Amy Adams plays a New Yorker with extreme agoraphobia who witnesses a violent act from her high-rise window.
We're most excited about… Gary Oldman as a scenery-chewing villain.
Out TBC