Driving in Paris
If you bring your car to France, you must bring its registration and insurance documents. As you come into Paris, you will meet the...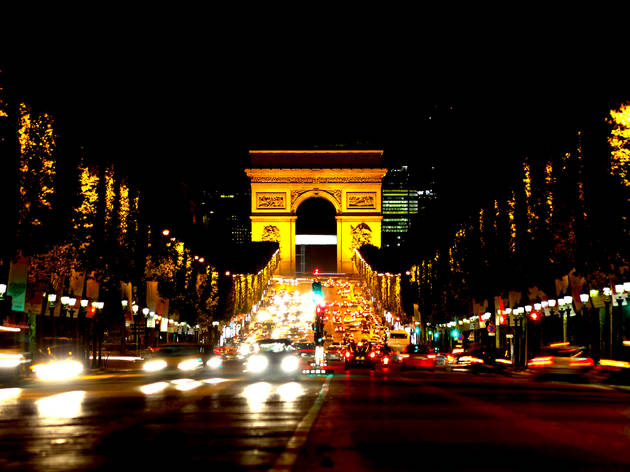 If you bring your car to France, you must bring its registration and insurance documents. As you come into Paris, you will meet the Périphérique, the giant ring road that carries traffic into, out of and around the city. Intersections, leading on to other main roads, are called portes (gates). Driving on the Périphérique is not as hair-raising as it might look, though it's often congested. Some hotels have parking spaces that can be paid for by the hour, day or by types of season tickets.
In peak holiday periods, the organisation Bison Futé hands out brochures at motorway péages (toll gates), suggesting less crowded routes.
French roads are categorised as Autoroutes (motorways, with an 'A' in front of the number), Routes Nationales (national 'N' roads), Routes Départementales (local, 'D' roads) and rural Routes Communales ('C' roads). Autoroutes are toll roads; some sections, including most of the area around Paris, are free.
Infotrafic 08.99.70.71.01 (€0.34 per minute), www.infotrafic.fr
Bison Futé 08.00.10.02.00, www.bison-fute.equipement.gouv.fr
Traffic information service for Ile-de-France 08.26.02.20.22, www.securiteroutiere.gouv.fr
The AA and RAC do not have reciprocal arrangements with an equivalent organisation in France, so it's advisable to take out additional breakdown insurance cover, for example with a company like Europ Assistance (0870 737 5720,
www.europ-assistance.co.uk
). If you don't have insurance, you can still use its service (08.10.00.50.50, available 24/7), but it will charge you the full cost. Other 24-hour breakdown services in Paris include: Action Auto Assistance (01.45.58.49.58) and Dan Dépann Auto (01.40.06.06.53).
At junctions where no signposts indicate right of way, the car coming from the right has priority. Many roundabouts now give priority to those on the roundabout. If this is not indicated (by road markings or a sign with the message Vous n'avez pas la priorité), priority is for those coming from the right.
Drivers and all passengers must wear seat belts.
Under-tens are not allowed to travel in the front of a car, except in baby seats facing backwards.
You should not stop on an open road; you must pull off to the side.
When drivers are flashing their lights at you, this often means they will not slow down and are warning you to keep out of the way.
There are still a few free on-street parking areas in Paris, but they're often full. If you park illegally, you risk getting your car clamped or towed away (see below). It's forbidden to park in zones marked for deliveries (livraisons) or taxis. Parking meters have now been replaced by horodateurs, pay-and-display machines, which take a special card (carte de stationnement at €10 or €30, available from tabacs). Parking is often free at weekends, after 7pm and in August.
To hire a car, you must be 25 or over and have held a licence for at least a year. Some agencies accept drivers aged 21-24, but a supplement of €20-€25 per day is usual. Take your licence and passport with you. Bargain firms may have an extremely high charge for damage: read the small print.
Hire companies
Ada 01.48.06.58.13, 08.25.16.91.69, www.ada.fr
Avis 01.44.18.10.54, 08.20.05.05.05, www.avis.fr
Budget 01.41.22.19.30,08.25.00.35.64, www.budget.fr
EasyCar 01.70.61.85.52, www.easycar.com
Europcar 01.53.64.16.24, 08.25.35.83.58, www.europcar.fr
Hertz 01.39.38.38.38, www.hertz.fr
Rent-a-Car 08.91.70.02.00, www.rentacar.fr
Chauffeur Services Paris
(01.75.43.48.86,
www.csparis.com
). Open 24hrs daily. Prices from €125 airport transfer; €240 for 4 hours. Credit AmEx, DC, MC, V.
De notre partenaire
Trois Fois Plus de Piment
On ne rigole pas avec les plats pimentés dans la région du Sichuan... Il faut dire que cette cuisine du centre-ouest de la Chine est réputée pour deux choses : ses piments et son poivre. C'est ce que vous pouvez découvrir dans la nouvelle cantine de la rue Saint-Martin : Trois Fois Plus de Piment. Ne vous fiez pas au décor zen et chaleureux, murs en briques et tabourets en bois, car dans l'assiette, c'est le feu. On commence doucement avec des raviolis maison au porc : dodus, hyper savoureux (mais quand même accompagnés d'une sauce sichuanaise pimentée, aillée et légèrement sucrée, qui arrache bien). On choisit ensuite son plat de pâtes (avec ou sans soupe) comme les Dan Dan (porc haché, cacahuètes, ciboulette) en indiquant le degré de piment que l'on souhaite sur une échelle de 1 à 5. La serveuse, sans doute habituée aux Parisiens jackass, nous conseille d'opter pour un niveau 2, et franchement, c'est déjà assez hardcore. Outre le piment, le bouillon est très parfumé, les nouilles fraîches et le porc délicieux. Pas de dessert pour calmer le brasier qui nous sert désormais de bouche mais de la bière Tsing Tao pour oublier la douleur. Plats entre 7 et 12 €.
Les mots du proprio: "Rendez-vous sur notre site internet pour plus d'infos."