Vintage Paris on a Vespa
Free your inner retro fiend on a 1960s style shopping spree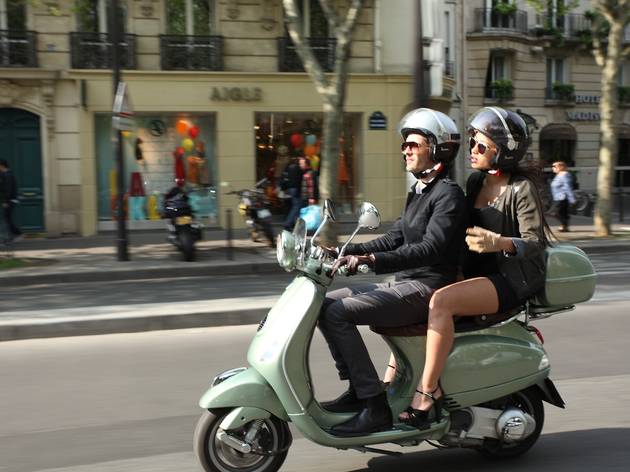 Vintage shops in London and New York have been adding retro flair to wardrobes for years; but it has taken Paris, the city of 'serious' haute couture and designer boutiques, a wee bit longer to jump onto the bandwagon. Today though, that wagon is well and truly rolling, and it's dripping in everything your vintage heart could desire, from rare 1920s Chanel accessories, Art Déco lighting and 80's kitten-boots, to sexy 70s dresses, 1950s bomber jackets and specialist 1960s rock LPs. And the good news is that many of its best vintage boutiques are condensed onto the Right Bank between Palais Royal and Faidherbe Chaligny (east of Bastille) – an easy distance to cover in one well-planned afternoon.
To really look the part, hire a vintage-style Vespa from Left Bank Scooters (06 78 12 04 24; www.leftbankscooters.com; over 20s only). There are two models to choose from, each with a compartment for stashing your shopping: the metallic green, 1955-style Vespa LXV 125cc with chrome trimmings and leather seats (€90 a day); and the red Vespa S 50cc (€80 a day), which is based on the 1962 Primavera model. Both can be delivered and picked up from your hotel or apartment for no extra cost.
French law now stipulates that you need a motorcycle license to drive a 125cc scooter, but your standard driving licence will do for the 50cc. And don't worry too much about parking. Where possible, look out for parking spots for motorbikes (parking moto), but if you can't find room under the official parking sign (the bane of Parisian life on two-wheels), the traffic police are generally lenient, as long as you don't block the road or pavement.
START:
Park your Vespa at the 'parking moto' area on the corner of rue Paul Bert and rue Faidherbe, 11th. (Métro Faidherbe Chaligny). Most vintage boutiques on this tour are only open in the afternoon so make the most of a retro setting for an early lunch on rue Paul Bert. If you're looking for old school Paris,
Bistrot Paul Bert
(18 rue Paul Bert, 11th, 01.43.72.24.01) never fails to deliver with a zinc bar, 1930s tiles, and lip-smacking dishes like suckling pig with potato gratin on the menu. Or for a touch of hippy-chic and slabs of Argentinean steak try
UNICO
, just opposite (15 rue Paul Bert, 11th, 01.43.67.68.08; www.resto-unico.com), a former butchers shop that has kept its original 70s orange and white tiles (the loos are even though the original fridge door!).
After lunch, leave your Vespa where it is and walk down rue Faidherbe, stopping briefly to admire Les Années Scooter at N° 23 (01.46.59.47.90) - a tiny den of 1930-60s scooters, table lights, clocks, jukeboxes and even street-signs. The guy in the hat at the bottom of the shop is Philippe, the passionate owner who can tell you the story behind every piece in the shop. Then, a few doors down, Restaur'Bronze at N° 41 (01.43.71. 44.25; www.restaurbronze.com) is one of the last places in Paris to specialize in 1930s and 40s metal objects including heart-stopping Art Déco lights, all perfectly hand-restored by owner Marc Arguence, who learned the trade from his father, and his father before him.
One thing's for sure: you won't be driving round with a 1932 crystal candelabra in tow, so head back to your Vespa and drive back down rue Faidherbe to turn left down rue de Charonne. About 100m on your right (opposite Le Bistrot du Peintre café, where you'll be coming back to for a coffee in a while), there are usually a few free parking spots. Walk right down rue Keller, a typical bohemian Right Bank street, lined with galleries, bars and emerging clothes designers, to
Born Bad
(17 rue Keller, 01.43.38.41.78; www.bornbad.fr), an eldorado of second hand, New Wave, soul, 60s surf and 50s rock LPs and CDs that attracts music savvy Parisians from across town. Now turn left onto rue de la Roquette and walk to
Adöm
, which is split into two small boutiques. Girls stick to the left-hand pavement for 1970s and 80s jeans and 60s shift dresses at N° 56, and boys walk down the right-hand side to N° 35 just opposite, which is filled with Go-go-go Greece Lightening 50s baseball jackets, cowboy boots and a few sneakers. By now, you'll be gagging for some caffeine, so retrace your steps to the Art Nouveau surroundings of
Le Bistro du Peintre
(116 ave Ledru Rollin, 11th, 01.47.00.34.39; www.bistrotdupeintre.com) where you can leisurely peruse over your purchases. Sustenance over, return to your Vespa and turn head south down avenue Ledru Rollin, then right onto car-clogged rue du Faubourg St-Antoine. At place de la Bastille, brave the island to head right up Bd Beaumarchais, where you can usually park around the St-Sébastien Froissart Métro station (about 150m from Bastille). Welcome to the Haut-Marais. Over the last 6 years, this previously forgotten, northern stretch of the Marais has become one of Paris's hottest shopping areas, with numerous one-off boutiques coveted by fashionistas, including two wonderful (if not expensive) vintage finds for the ladies. The first is
Studio W
(head down rue du Pont aux Choux next to the metro; 6 rue du Pont aux Choux, 3rd, 01.44.78.05.02), a sparse vintage shop where quality, not quantity counts. You'll find some designer vintage dresses by YSL and Chanel, but it's the accessories that shine; everything from 80s stilettos to jewellery, and enough dinky 60s leather clutch bags to make your heart swoon. The second,
Matières à Reflexion
(19 rue de Poitou, 3rd, 01.42 72 16 31; www.matieresareflexion.com), is the ultimate vintage bag-maker – a place where old leather jackets and clothes are crafted into one-off bags and satchels fastened with aged brass hardware.
From here, jump back on your bike and whizz back down rue du Pont au Choux, to turn left onto rue de Turennes and right onto rue St Antoine. Park around the St Paul Métro station. On the street parallel with rue de Rivoli (rue du Roi de Sicile; walk up rue Pavée and turn left), you'll find two vintage hotspots: For punky London retro-style, try Noir Kennedy (12/22 rue du Roi de Sicile, 4th, 01.42.71.15.50; www. noirkennedy.fr), which drips in leather coats, lumberjack shirts, ripped jeans and funky 80s t-shirt. Or, if 40's fashion is your forte, try Mam'Zelle Swing (35Bis, rue du Roi de Sicile, 4th, 01 48 87 04 06) where Bérénice stocks well selected pieces, many under 100 euros. On your way back pop into Free'P'Star (20 rue de Rivoli, 4th, 01.42.77.63.43; www.freepstar.com) and rifle through the rails of 80s jeans, men's jackets, fur coats and hip handbags.
Back on your Vespa drive all the way down rue de Rivoli, right up rue de l'Echelle and right down rue St Honoré to park wherever you can at Palais Royal. There are usually scooters on Place André Malraux right next to the Comedie Française. From here take a stroll under the arcades of the Palais Royal gardens to Paris' ultimate temple of luxury vintage,
Didier Ludot
(24 Galerie Montpensier, 1st, 01.42.96.06.56; www.didierludot.fr). You just have to glimpse at the window displays to see that there is something wholly special about Ludot's collections, many items of which look like they once belonged to Audrey Hepburn or Marylyn Monroe. If you're daring enough to go in, you'll discover modern pieces by today's up and coming designers too – the vintage pieces of tomorrow, the owner calls them.
That's your shopping over for this afternoon, so finish your day with a retro-style dinner at red-and-white chequered Astier (44 rue Jean-Pierre Timbaud, 11th, 01.43.57.16.35; http://restaurant-astier.com), where chef Christophe Kestler revives vintage French dishes like smoked herring, braised Charolais beef and vanilla cream with sophisticated flair. To get there, hop back on your Vespa and drive eastwards along rue St Honoré. Turn left up rue du Louvre, veering left onto rue de Montmartre and right onto rue Réamur. When you reach Bd de Sébastopol (500m) continue along rue Réamur, which eventually becomes rue de Bretagne. At the crossroads with rue de Turenne, take rue Froissart and turn left onto Bd des Filles du Calvaire. Because of the one-way streets turn right down rue Oberkampf, then left down rue de Nemours and park where you can. Now indulge!
By AB