La rivière Dan: tubing, kayak et rafting en eau vive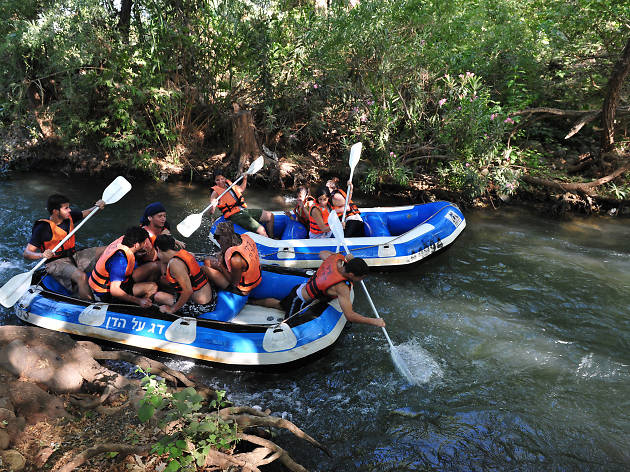 Time Out dit
Repaire des aventuriers sans-peur: la rivière Dan, avec ses eaux-vives où faire du rafting, kayak ou tubing.
Surmontée par le Mont Hermon dans les Hauteurs du Golan, la rivière Dan est la destination idéale pour les amoureux de la nature, avec son lot d'activités à expérimenter. Si vous choisissez l'option relax : louez un 'tube' et flottez sur les eaux fraîches. Si vous avez des envies d'adrénaline, choisissez l'option kayak ou rafting. Quel que soit votre choix, la rivière Dan sait satisfaire ceux qui se laissent tenter. Un petit creux ? Le célèbre resto 'Dag al HaDan' (poisson du Dan), niché parmi les arbres le long des rives de la rivière: on y sert des poissons frais accompagnés d'une multitude de salades. Non loin de là, se trouvent les ruines de la ville biblique de Dan. Le Parc National Tel Dan permet de découvrir l'archéologie en pleine nature. Les visiteurs auront un aperçu de la vie à l'ancienne grâce aux ruines et à l'artisanat de l'époque. Côté nature, le parc abrite plus d'une douzaine de ruisseaux et de sentiers de randonnée.
Located in the Golan Heights at the base of Mount Hermon, the Dan River is a wonderful destination for nature lovers with abundance of outdoor activities to enjoy. For those in the mood to relax, rent a tube and float along the cool waters. If you have a thrill for excitement, kayaking or white water rafting provide a great adrenaline- boost. Whichever you choose, a trip down the river makes for a lovely summer's afternoon. A true highlight of the area is the famous Dag al HaDan (fish from the Dan) restaurant, which is nestled amidst the trees on the river serving freshly caught fish and a delectable array of refreshing Israeli salads. Nearby, located on the ruins of the biblical city of Dan, the Tel Dan National Park is a remarkable place to experience nature and archaeology all in one place. Visitors are offered a glimpse into ancient life through ruins and artifacts. In addition, the reserve also offers dozens of streams and hiking trails.
Infos
| | |
| --- | --- |
| Adresse | Parc National Dan |
| Prix | Entrée du parc 28 NIS, 14 NIS pour les enfants. Prix de groupe possibles (30 personnes minimum) |
| Contact | |
| Heures d'ouverture | Été: Sam-Jeu de 8h à 17h; Ven de 8h à 16h. Hiver: Sam-Jeu de 8h à 16h; Ven de 8h à 15h |
Votre avis