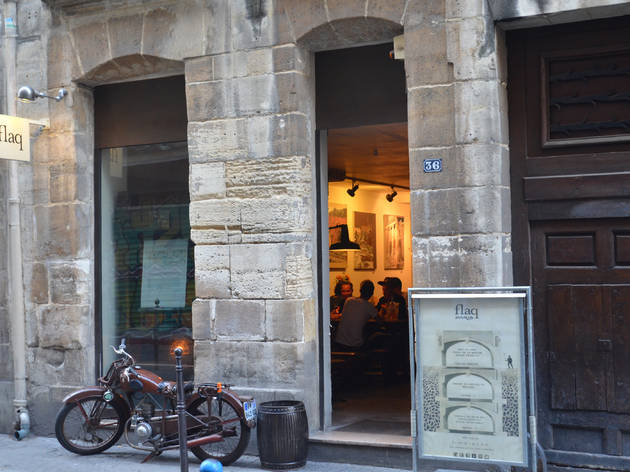 Time Out dit
Attention les amis ! Nous nous efforçons d'être précis, mais la situation particulière nous oblige à quelques ajustements. Alors vérifiez que les lieux soient bien ouverts avant de vous y rendre.
Come for the art, not the food, at this café-bar and 'creative laboratory'. There's an impressive programme of readings, exhibitions, workshops and more.
Opened on Rue Quincampoix, this three-story bar, art gallery, 'creative laboratory' and antique store is a hipster's wet dream: capacious and warmly lit, furnished with ink drawings and antiques, vases of fresh pink celosia (a strange, fragrant spiky flower), a Chesterfield sofa and other industrial chic 'pieces' – artisan-made tables and benches of reclaimed wood, metal and leather that are so exquisite you hesitate to sit or set your drinks on them. La FLAQ is the ne plus ultra of young Parisian design, but in all its cool sophistication, the space feels somewhat impersonal. As if torn from the pages of House & Garden: its lush interiors beg to be photographed, but are hard to relax in.
The food and drink menu is described as 'oenogastronomical' – in reality, it features a list of mid-range wines and 'Franco-Italian cuisine' that consists of cheese, charcuterie and pizzas (sad, withered, sauceless) ordered from a neighbouring restaurant (€14). The signature cocktail we tried was a drab concoction: lumpy raspberry purée poured from a cardboard carton and stirred with a few teaspoons of gin or vodka (either way, it wasn't detectable). If you do come to drink, go with a craft beer: the bar has a nice selection, including an 'APA of the day'.
Despite the catering, aspiring artists, art students and other creative types flock here for the impressive weekly programme of readings, exhibitions and workshops, which has featured artists like Ji-Yun and Elsa Gomis. To be fair, the venue bills itself first and foremost as an 'experimental cultural space' and in its cavernous basement, you're quite likely to stumble into immersive installations or avant-garde performances. The energy and excitement are palpable. You'd almost think yourself in Berlin – if not for the hole left in your wallet.
Infos
Adresse
36 rue Quincampoix
Paris
75003

Transport
Metro: Rambuteau or Châtelet
Contact
Heures d'ouverture
Tues-Sat 7pm-2am
Vous êtes propriétaire de ce commerce ?